We welcome our visitors to submit photos for this page and others on www.lincolnmaine.us by e-mailing them to

[email protected]

. Please send them in the highest resolution available. BEFORE SUBMITTING any photograph(s) please read the following:

All photographs submitted to www.lincolnmaine.us become the property of RAND ADVERTISING LLC and will not be returned. Without affecting any of your ownership rights to the photograph(s), by submitting your photograph(s), you grant RAND ADVERTISING LLC an irrevocable royalty-free, worldwide right, in all media (now known or later developed) to use, publish, alter or otherwise exploit your photograph(s) and to sublicense such rights to a licensee at RAND ADVERTISING LLC's discretion. You hereby forever release RAND ADVERTISING LLC and any of its licensees from any and all claims you might have in connection with its use and exhibit of your photograph(s) as set forth above. You also agree to sign (your parent or legal guardian if you are a minor in your state or Province) any necessary documentation to effectuate that license and release. Your photograph(s) must be your own original work and, by submitting your photograph(s), you represent and warrant that: it is your sole original work; and you have obtained any and all consents, approvals or licenses required for you to submit your photograph(s) (including obtaining the written consent of all 3rd parties, where applicable). Your photograph(s) must not contain material which is violent, pornographic or otherwise obscene, illegal or racially or otherwise morally offensive. You agree to indemnify and hold harmless RAND ADVERTISING LLC, its parents, subsidiaries and affiliated companies, each of their respective licensees, successors and assigns, and each of their respective employees, agents, representatives, officers and directors from and against any and all claims, losses, costs, damages, liabilities, losses, costs and expenses (including, without limitation, attorneys; fees) which arise out of any breach of this agreement or any of these covenants, agreements, obligations, rights, representations or warranties set forth herein. You waive any claim of infringement (including without limitation copyright, trademark, patent, trade name, trade secret, etc.) against RAND ADVERTISING LLC or its licensees based upon access to or use of your photograph(s). If you do not want to grant RAND ADVERTISING LLC the foregoing, please do not submit your photograph(s). RAND ADVERTISING LLC is not obligated to use the photograph(s).

---
---
| | |
| --- | --- |
| These two beautiful snow scenes were sent in by Mike Libby. | |
---
| | |
| --- | --- |
| | These are just a few of the nice photos Jessica Dunn of Lincoln sent to us. She noticed the painted turtles from the railroad track, the geese at the gazebo and the loon at Grey's Beach. Her daughter's feet make ripples at Prince Thomas Park. |
| | |
---
December 9, 2009 - Nicole Bean of Lincoln writes, "I took this picture of the lake a few minutes ago! It looks like we're already snowed in and it's only our first major storm of the season!"
---
We love to getting e-mails from our visitors, and when there are photos attached it's even more fun! Marion Wojciechowski writes: "Thought I would share some of these pics I caught of the rainbow we had blessing our sky last month, around October 10th. I first caught sight of the rainbow coming up the Interstate on my home from work, and couldn't resist trying to capture a few shots. It was one of those once in a lifetime moments one had to grab while it was there. As I was driving up Main Street, I began to think to myself, that the rainbow looked like it may be coming from somewhere close to my home. I live on Frost Street and the closer I got to it, the more excited I got. Lo and behold, the final picture shows the rainbow originating (or ending) at Stump Pond, which is right across the street from my home. I hope you enjoy them."
---
Here's another rainbow picture:
Nicole Bean sent in this lovely photo of a rainbow. She took the photo from Mattanawcook Street in Lincoln this summer.
Thanks to Maddie Truax, who sent us a nice selection of her photos.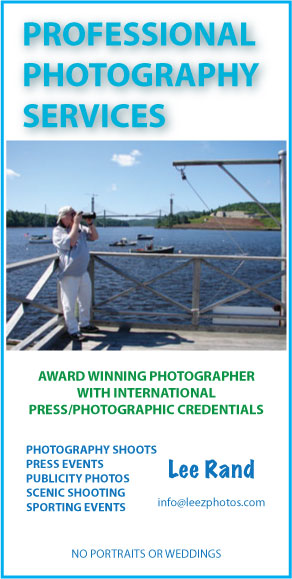 The four photos above were taken by Rebecca Radovic. Thank you Rebecca, for sharing them with us!
Thanks to Katina Troulis for sending in this beautiful photo taken at Stump Pond in Lincoln.
Alfred Morrill gave us these beautiful photos of Mattanawcook Pond, taken in 2003 from Taylor Street in Lincoln.
Nicole Murchison of Lincoln takes her dog Oakley for a scooter ride!
Nicole Bean of Lincoln sent us the colorful photo above. Nicole says, "This is a view of Mattanawcook Lake from my home on Mattanawcook Street. I got up early one morning and the sky was soooo beautiful. Red sky at night sailor's delight, red sky in the morning sailors take warning!"
July 27, 2009 - Bruce Barker Jr. sent us this photo of one of two moose that have been hanging around his yard in Mattamiscontis. Bruce tells us the moose weren't holding still for photos because his dog, Diesel, was barking at them.
These photos from Bruce Barker, Jr. will make those of you who love fiddleheads envious!
Some of you may have had a stick or nail puncture your tire, but Denyse Barker found something more unusual caused her flat tire after she crossed the railroad tracks on West Broadway last February 26. This photo was sent in by Denyse's husband, Bruce Barker, Jr.
Michael Coons of Maryland enjoys visiting his parents at their Caribou Pond home. While he's here, he likes to explore the area, and we're thankful that he takes his camera with him. He sent in the loon photo above and the three pictures below. Thanks, Michael!
---
Aaron Priest shared this panoramic view of Lincoln Paper & Tissue with us.
Linda Campbell sent this photo of some pink and white lady slippers.
Our thanks to Shelley McIntyre of Lincoln for these four outstanding photos!
Shelley has a great eye for the natural beauty of our area!
The two interesting photos above were taken by Stephen Watson of Cape Elizabeth. Stephen took the pictures at the Cathance River Preserve in Topsham.
---
We have a really interesting photo for you, but since some people don't like spiders we won't show the picture here. CLICK HERE if you want to see it.

The photo comes to us from Lana Gulesian, and it shows a very large spider. It's a Dolomedes tenebrosus, commonly known as a wharf spider, or fishing spider. This species lives around the water, and is capable of catching small fish. This spider's legs can be up to three inches long! This one is enjoying a different kind of meal. If you look closely, you can see the legs of another spider that the big one is eating.
---
Katina Troulis photographed these mallards on April 25, 2009 at the South Lincoln boat lauch.
Denise LaGasse sent us this picture taken on January 16, 2009 flying from Philadelphia to New York with a final destination of Denver, CO.
Here's another beautiful photograph from Mike Libby.
At 8 o'clock on a snowy Sunday morning, Bruce Barker, Jr. photographed this fox sound asleep in his back yard in Mattamiscontis.
Mike Libby sent us this picture of a guest at his bird feeder.
Caprice Stevens took the flag photo above, and the colorful abstract image below.
Brad Blake took this photo after the ice storm of December 12, 2008.
Another photo from Brad Blake - a loon and its chick on Silver Lake.
Jean Hanington sent us the three photos above, taken during an ice storm on December 12, 2008. Her daughter Sarah appears in two of the photos. Jean says the tree in the bottom picture is ordinarily tall and straight, but was bowed under the weight of the accumulated ice.
This beautiful view of Cold Stream Pond was taken by Sue Harvey.
Mike Libby sent us this photo of a wind turbine.
Mike Libby has a good eye for Maine's natural beauty!
Thanks to Mike Libby for sending us this colorful flower photo.
This dramatic dragonfly photo was taken by Stephen Watson of Cape Elizabeth, ME.
Caprice Stevens of Lee took this colorful photo.
Nathan Stevens got this nice shot of a lighthouse off Vinalhaven while on a lobster fishing trip.
Brad Blake took this exciting photo at Silver Lake in Lee.
You can miss a lot if you don't look down once in awhile. Thanks to Brad Blake for sending us this picture.
Mike Libby took these two nice waterfall pictures recently.
Wendy Lawrence of Lincoln sent us this photo she took out at Stump Pond recently.
Mike Libby sent us two photos of a mother turkey and her kids.
Yum! Bruce Barker, Jr. sent in this photo.
Mike Libby sent in this photo. We hope he was using a telephoto lens!
View of Rollins Mountain from Caribou Pond. Photo sent to us by Brad Blake.
George King sent us this nice photo of a clematis vine.
This photo of four helos in Yigo, Guam was sent to us by Lewis Stevens.
Mike Libby took this colorful photo last fall at Green Valley Golf Course.
Brad Blake sent us this beautiful photo. These are mayflowers. If you're fortunate enough to find some growing in the woods, please don't pick them, but do bend down and enjoy their fragrance.
The deer photos above were taken in Lincoln in March 2008. The pictures were sent to us by Sharon Leighton. They were taken in her yard with a motion-activated night cam.
Here's a special treat for you, sent in by one of our international clients, Brendan Foley of County Donegal, Ireland. Brendan writes, "I took this photo on my way to Leenane in Connemara just this Saturday, 12 noon and no one on the road but me!!! The area in the photo has been seen by millions around the world…across the river where I took the photo is the ruins of the Cottage "White O' Morn". Have you ever seen the film "The Quiet Man" Starring John Wayne and Maureen O' Hara? … well this is the very spot that John Wayne was seen returning to the "Old Homestead" in the opening scenes of that brilliant 50's film. This area is a magical place and loved by all Irish men!!! Maybe one day I can show you round my 'back yard'."
The two photos above, taken at Pemaquid Point, were sent in by Brad Blake.
Three-year-old Jackson Sutherland beams with pride as he holds a 14-inch brook trout he caught recently during an ice fishing trip to Upper Pond with his dad, Josh. The photo was taken by Jackson's mother, Sarah.
Our thanks to Brad Blake for sending in this photo of surf at Two Lights State Park.
This pretty sunset shot was sent to us by Mike Libby. Can you guess where in Lincoln it was taken?
Here's another photo from Mike Libby, who was in the right place at the right time with his camera. This chickadee is sitting inside the cab of his son's truck!
---
The following five photos were taken by Mike Michaud during visits to his parents, Connie and Roger Michaud, in 2006 and 2007:
---
14-year-old Jamie Dill of Medway shot this nice 100-pound doe in Telos on Youth Hunting Day. Congratulations, Jamie!
This dramatic photo of the moon over Cambollassee Pond was sent in by Sandra Hatch.
We are blessed with some beautiful scenery here. Sandra Hatch shared these two views of sundown taken at Folsom Pond.
Sue Troulis took this photo of a winding road during a trip to Baxter Park on 9/11/07.
Roger Ek sent us this photo of a large white bird that visited his camp this summer.
Annette Clay took this close-up photo of a moose recently.
The photos above and below were taken by Eleanor Worcester at her home on the Little Narrows. The birds are pileated woodpeckers.
This view of Mattanawcook Lake was sent to us by Brad Blake.
An unusual visitor showed up recently at the Lincoln Maine Federal Credit Union. This photo was sent to us by Cris Kinney.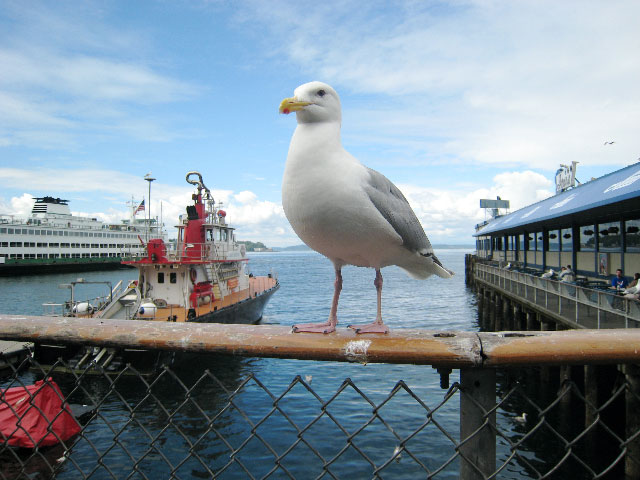 Linda Campbell writes that she photographed this interested observer while having lunch at Ivar's Acres of Clams on the Seattle waterfront.
The soft greens of spring are captured in this photo sent to us by Linda Campbell.
Donna Pereira sent us this photo of some Canada geese enjoying a rest on Mattanawcook Lake.
Eleanor Worcester captured this colorful scene at the Little Narrows.
These three photos were sent to us by Mike Libby
Doug Piehler took this photo on February 15, 2007. The way the setting sun lit the ice left by the previous day's storm reminded him of lights on a Christmas tree.
Josh Plourde of Enfield took this picture in Orrington in October.
Little Red Schoolhouse taken from Mattanawcook Stream by Dottie Harding.
SUN Recording Studio at 706 Union Avenue in Memphis, Tennessee. Photo taken, through his windshield!, by Bruce Barker, October 2006.
Our thanks to Linda Campbell for sending us this lovely photo taken from the gazebo in downtown Lincoln.
This photo was taken in Lee, ME by Aaron Priest.
Marc Delle sent us this photo of a tree called "The Tree of Life", which is growing all by itself out in the desert in Bahrain.
The "Red, White & Blue House" (The Stevens') in Lee.
This picture was taken by Michelle Matt on July 19, 2006 on Big Narrows.
The two photos below were sent to us by Mike Libby.
"Didn't Make It West"
Sorry this photo is not from the beautiful colorful Maine of USA, but comes from my travels in the Australian Outback. This area is known as The Painted Desert and situated between the Opal mining town of Coober Pedy and Oodnadatta in the far North of the state of South Australia, It is quite the opposite of your fall photos but still has beauty.

From Doug Tilley
Perth WA
Australia
The beautiful yellow rose shown above was photographed by Mike Libby.
This photo was sent to us by George and Jeanette King. The picture was taken by their son-in-law, Rick Phillips, who died of cancer last year.
This tiny visitor stopped by the home of  Duane and Mary Lary on Energy Lane in Woodville. We can just imagine the little fellow saying, "I'd like two blackflies, two mosquitoes and a large flower nectar to go, please - and yes, I'd like fries with that!"
How's this for a bright sunrise? Ed Comeau sent us this photo he took behind the barber shop on Main Street in Lincoln in December.
Here's another photo that we particularly like by Mike Libby called "Rain Dance".
Mikey Gerrish enjoying a tube ride on Caribou Pond. This photo and the one below were sent to us by Ernie Gerrish.
Mikey Gerrish and R.J. Rooks (Massachusettes) tubing on Caribou Pond.
Mike Libby took this photo on the Silver Ridge Road.
Mike Libby sent us this gorgeous sunset photo he took from the air on March 30, looking toward Greenville.
Thanks to Lindsay Crooker of Oxford, Maine for sending us this beautiful photo she took during a trip to Lincoln. She says, "What a pretty sight first thing in the morning!"
This great aerial photo of Lincoln was sent to us by Douglas Piehler of Lincoln, who says,"I took this picture while on a float plane ride during Homecoming 2005. It was a windy day and the ride was bouncy, but somehow this picture turned out rather well."

Mike Whitney sent us this gorgeous view of the Penobscot River early in the morning from the air.

Douglas Piehler sent us this beautiful photo. He said, "The rain stopped for a day in October and gave me a chance to take this picture from my home on White Point. It was taken around 9 AM."


Early mornings on Mattanawcook Lake are especially picturesque. This sunrise was photographed in 2004 by David Johnson.

Ladyslippers are among the flowers that can be found in the woods around here. This photo was submitted by Roger Ek.

If you'd like to share your photos of Lincoln, e-mail them to us. Please send them in JPEG format, and include the photographer's name as well as when and where the picture was taken.

Submission of photos gives us permission to publish them on this site as we see fit. Not all photos submitted will be published. Photos we use will remain on the site for at least 5 days.

Check back often to see what's new!

There is beauty all around us. If you're in the habit of carrying a camera with you, you can capture it to share with others.

This panorama of downtown Lincoln is made up of a series of photos stitched together electronically. The photos were taken at 2:00 PM on February 17, 2004 during my first visit to Lincoln. I came here from Rhode Island primarily for R&R and a bit of ice fishing, but this photo helped convince my wife to return with me the following week and check out what has become our home.

Doug Piehler

NOTE: Click on Doug's wonderful photo to see a larger version.

Here's another photo from Doug, who says, "Here is another "stitched together" panorama taken on the Penobscot River in Lincoln on August 24, 2004. My son and I put in at Chester and fished our way to the South Lincoln landing. This was taken during our lunch break on the sandy beach of an island not too far upstream of the Access Road bridge. During our float, the bass were very cooperative and we saw deer, two eagles (insets) and a huge snapping turtle."