Lincoln is the shopping hub for the general area, so people from outlying smaller towns come here to get groceries, buy gifts, shop for vehicles and get a haircut.
So, what can you do to have fun around here?
Go shopping while you're here (and support the advertisers who make this site possible). You'll find some interesting places to buy something for the folks back home. If you're here on a Thursday, you might find a yard sale, too!
This is a wonderful area for hunting and fishing. The local snowmobile club maintains a network of well-groomed trails that also make great places for a walk in the woods in the spring, summer and fall. The club house is located on Town Farm Road, 3 miles north of downtown Lincoln and at the junction of trails 1 and 6. They are open Saturday and Sunday (weather permitting), and food and parking is available. You can get a PDF copy of a local trail map here.
There are boat landings on most of the lakes, and on the Penobscot River (there's a picnic area at this one). Put your boat, canoe or kayak in the water and enjoy a day of fishing or watching the wildlife. If you'd rather have a local person take you hunting or fishing, there are many Maine Guides in the area. In fact, you can even learn to be a Registered Maine Guide yourself, right here in Lincoln!
You can play 18 holes at the golf course, and take in a concert at the gazebo downtown on Friday nights.
Lincoln holds its homecoming celebration the third week of July each year, with the famous Riverdrivers Supper on Thursday. This is an outdoor feast, with beanhole beans, biscuits and everything that goes with it. There are homemade cookies for dessert–you don't want to miss that! On Saturday there's a parade on Main Street. And you should see the fireworks reflected in the lake! Check the Town of Lincoln website for more information.
Although Lincoln itself doesn't have a 4th of July parade, nearby Burlington's traditional parade is always a fun event.
Lincoln's Main St. has plenty of places to shop.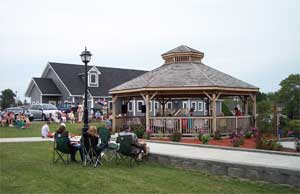 Folks enjoy a Friday night concert at the gazebo on Main Street in Lincoln.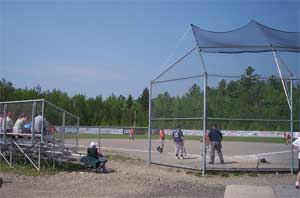 Little League baseball games are fun for the whole family.