8 MILES HIGH !!
October 11 & 12 - Well, not exactly "8 miles high" but I thought the phrase had an interesting ring to it! Anyway, ever wonder how the Lincoln area looks the way He might see it? You know, from above - from the sky? Well, Rand Advertising was contacted to do some photographic work for a political group and that entailed flying above the greater Lincoln area. Light bulb goes on!! We had already planned a photo shoot in Baxter State Park for Saturday morning, so we arranged to do the fly-over shoot on Saturday afternoon and Sunday mornings. Since heights aren't my thing, Connie took all the photos from the air. Gary Steinberg was the pilot and he flew a Cessna aircraft. They took off from Lincoln (International) Airport, and both days the skies were mostly clear. Besides the work we had to do, Connie got some great aerial shots of the town and surrounding areas.
We've put together a slideshow for you that will show you some of the beauty of our area, although some of the brightest fall foliage has passed. You'll see photos of Lincoln, Lincoln Center, Rollins Ridge, Folsom Pond, Long Pond, wind turbines, Silver Lake, Penobscot River, Caribou Pond, a distant Mt. Katahdin, Egg Pond, Center Pond, and a lot in between that you've probably never seen from this view before! We hope you'll enjoy this flight over our area as much as I liked having my feet firmly on the ground! CLICK HERE for the slideshow.
- Lee Rand
---
---
This photo was taken in beautiful downtown Lincoln!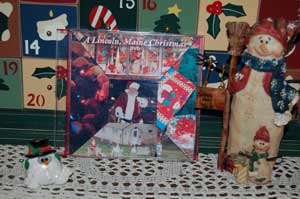 Visit Our Lincoln Web Store!

This photo was taken next to the public library in downtown Lincoln. Mattanawcook Stream flows past the library on its way to the Penobscot River. Lincoln's "town ducks" can sometimes be seen feeding in this area.
Take a look here for more pictures taken around town.
There are things you won't find in Lincoln, such as skyscrapers, gridlock (unless you're stuck waiting for the train to cross West Broadway), street gangs and a high crime rate. We have a grand total of four traffic lights. You can feel safe walking just about anywhere whenever you want and nobody will bother you. In fact, someone you don't even know may smile and wish you a nice day.
The greater Lincoln area is absolutely beautiful! Many species of birds and animals live here. Quite often loons can be seen on the lake downtown, and bald eagles are common.
If you're passing through Lincoln on your way to Canada on Route 6, or decide to leave Interstate 95 to get gas on your way to Baxter Park, look around a little. Come back when you have more time and stay awhile. The fall colors here are amazing!
The Little Red Schoolhouse on West Broadway is pretty any time of the year. This photo was taken in May when the new green leaves make a nice backdrop for the schoolhouse.
Leaf-peepers will love the Lincoln area in the fall.
Flowers are a delight. Many Lincoln residents decorate their yards with blossoms such as this fragrant, old-fashioned June rose.
Don't let this be your only visit to our site! Come back often, because we are always adding to these pages.

Take a look at our beautiful town! Click here.
This beautiful display is maintained at the Lincoln post office, on Fleming St., by an employee who wishes to remain anonymous!

A rock wall and split rail fence border a field near the Lincoln/Winn town line.